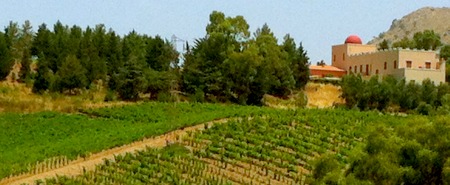 There's something unreal in the feeling that accompanies you, when you are in Pianetto, section of Santa Cristina Gela, in province of Palermo.
You have to drive into the street SS624 Palermo-Sciacca in order to reach this place. You have to take the exit Altofonte, less than 15 minutes by car from Palermo. It's near the town, and perhaps it is the closest to Palermo.

I have never been in that corner, at 20 km south-east of the town. You can cross a set of isolated high hills, partly bare and partly clothed with woods and gardens, then a couple of narrow tunnels of a reduced waste dark railway that exists no longer . going on , you can see dense green"patches" that compose a charming panorama, and places that I'd never have imagined to see, for a moment that I get used to the alienation of the metropoli. And then , the sound of silence.

It sounds absurd, but it is the so called descriptive "silence", that, until that moment wrapped Baglio di Pianetto wines in the winery. The silence is not always something positive and sometimes I felt this silence as something arrogant, like a superior way of life to stand aside, away from the crowds. But I did not understand and It tooks me three times to pierce the veil. There are things that you can't describe. But I can say that when I was coming to Pianetto I felt a sort of a strong energy involving earth and men.

Before starting with the usual descriptions, I think About "who" and "where". The "who" is Paolo Marzotto, in which I see a strong passion for Sicily, a passion guessed in two episodes that I like and which I envy a lot: a cigar with Winston Churchill boat off the coast of Taormina, and the victory of the XII Tour of Sicily in 1952 on a Ferrari 166 Inter 2000. I'm not a fan, but going around the island by a Ferrari, at 1080 km in 11h. 23min. 26 sec. at an average of 94.90 km times, well, today I would not be able to do that and it fascinates me enough. I read from the site of the Targa Florio http://www.targaflorio.info/12giro.htm: "The undisputed control of the Ferrari is also confirmed in the twelfth edition of the Tour of Sicily where the youngest of Marzotto brothers, Paul, by a small Ferrari 2000 166 Inter, emulates his brother and won the Tour of Sicily, giving five minutes to the new 2000 Lancia Aurelia B20 GT opposed him during the way."He won another two Italian championships and two world championships in sports category.

Some time later, in 1997, Paolo Marzotto decided it was time to invest in wine sector and Sicily. His goal was to do better than Tuscany and France. He doesn't say it so explicitly, but we can read between the lines that, at first observing grape varieties. Then, He wants to highlight the better side of some areas and some extraordinary Sicilian grapes. In addition to Pianetto there is another area called "Barons", a legendary district , far 5 km from Capo Passero, the appellation is "Doc Eloro", the home of Nero d'Avola.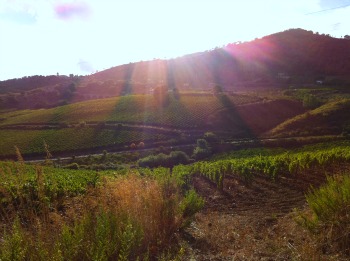 View of Baglio di Pianetto vineyards
To sum up: 88 hectares in Pianetto / Santa Cristina Gela, including 70 hectares of vineyards and the olive groves, and about 60 acres Baroni / Pachino, 38 of which are vineyards, for a total of about 108 hectares in production.

The selection of varieties is made without following any particular limit: Insolia, Viognier, Müller-Thurgau, Sauvignon Blanc, Merlot and Petit Verdot in Pianetto, while Baroni Nero d'Avola, Syrah and Moscato di Noto. The system is almost organic: chemical fertilizers are not used. You harvest the grapes in perfect ripening in late August and continue to finish the first of October. The production is around 500,000 bottles for the 2011 vintage, with the goal of reaching 1.2 million bottles in the next five years. The theme of energy resources is taken to heart: the roof of the cellar is covered by solar panels that produce the energy needed to the cellar, in some periods of the year the balance is even positive.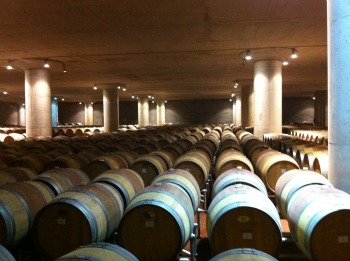 Barricaia
Paolo Marzotto is not new entry in the wine sector and he has a presence in wine small company named Santa Margherita, that uses as image which – among other things graphic stylization of a Renaissance villa of Marzotto in Portogruaro. But that's another story.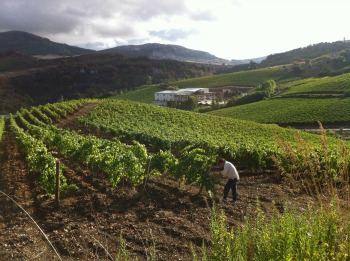 Alberto Buratto between vineyards
I do not know so much of Baglio di Pianetto, but I have been a spectator of some short and pleasant episodes that in my opinion have marked the differences.
produced by Viognier grapes. First of all, the first time I visited the winery in Pianetto – on 11th July – I was greeted by Alberto Buratto, CEO of the company, in a suit and tie, and with whom I had a nice tour of the winery and a 'pleasing vertical Ginolfo, a structure wine, aged in wood.

The last, on September 17, the same person, Alberto welcomed me on board dressed as a warehouse- keeper with his hand wrapped in a label. This is a clear evidence of complete flexibility and dedication to work. In that circumstance I knew his collaborators, first through an iphone with which, thanks to a circuit of HD cameras, you can peer into every nook and cranny of basement day and night, and then live.

Also at that time, after the visit to the company, I was hosted for breakfast from Geneva Notarbartolo di Villarosa, nephew of Paolo Marzotto at the Relais, even "Agrirelais" of the cellar. The structure is dedicated to friends and guests and it has been operational since 2005. The farmhouse, dating from the first 800 and the former home of Baron Palizzolo of Ramione, has been rebuilt and has fifteen rooms, restaurant, solarium, swimming pool. It's 'the only one of the circuit "Relais du Silence" in Sicily. And the theme of silence returns.If you don't know it, that is a circuit whose mission is to offer peace and tranquility in contact with nature, the silence necessary for the regeneration of the body and thoughts, especially for people living in the city.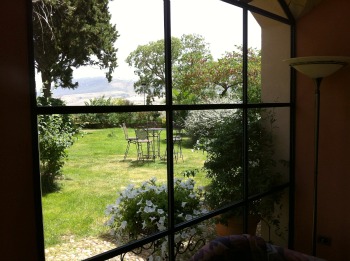 Agrirelais
Another fun episode, dear to me because I have identified for the first time the count. I was a spectator during Vinitaly to your requests in a stand of another Sicilian winery more than famous. He dressed an elegant gray suit. He asked the young man pouring some wine, and he asked her again for almost half a glass. Talking with an accent mixed Sardinian and American English, the boy asked the count If in a lively and ringing tone, which was about to go away, if he had for a short . Initially displaced and after a few seconds, he decided to give him lovingly answer. With a soft smile he said he'd like to try that wonderful wine to his staff but he was not working hard enough to get away.
The event is an opportunity to say a few words on the staff of Baglio di Pianetto, young and motivated, including the winemaker Marco Bernabei,'technical' employee , Giuseppe Lo Jacono and Alberto Stella.
As I said, the visit was followed by a vertical tasting of a wine made from grapes Viognier, the Ginolfo. Ginolfo is primarily a cla-marly rock that is located in a deeper layer of soil Pianetto. Green harvesting, the altitude, the sun, a meticulous selection of the clusters (collections of viognier are three for three levels of maturity: an acidic base, a technical maturity and ripening), a brief passage in barriques three months, give the wine flavors of white flowers, tropical fruit, peach, sage and balsamic notes such as lemon grass, and typical notes of wood with vanilla and roasted coffee. With the aging nose evolves and add a hint of saffron, marine notes, the smoke feels light but with greater precision.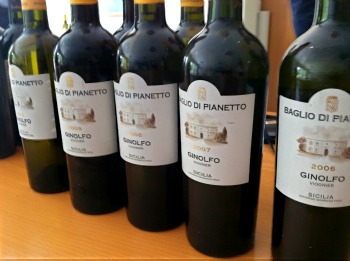 Below the vertical which was attended by Alberto Buratto, Fabrizio Carrera, Maria Antonietta Pioppo and Manuela Laiacona.



Ginolfo 2006

Despite a long aging, Six years, are a long time but, the wine results fresh and with young style. The color is straw yellow tending to gold. The aromas are elegant, in particular floral notes like citrus and hints of herbs and vanilla cream. It is perfectly balanced, structured, characteristics given by the fining. 90 points


Ginolfo 2007

Straw- gold yellow . The main aromas are of apricot, honey, white rose, and also musky note and the end of roasting. The finish is characterized of mineral notes. 88 points.


Ginolfo 2008

Straw yellow with golden reflections. The main aromas are of peach, violet, ripe citrus, herbs, candied fruit and dried figs, with notes that recall plant and ferrous metals. Another aroma you can find is coffee cream. The palate is full-bodied, long and slightly bitter finish. 87 points



Ginolfo 2009

straw yellow, brilliant. Its main aromas, that you can appreciate progressively are exotic fruit, loquat, peach syrup. Refoli marine flint, lime and toast soften the nose, creating a bouquet of charm. For the palate is intense, long lasting spicy and mineral aromas that give to the wine a pleasant aftertaste. 88 points


Ginolfo 2010

The wine is still very young, vehemently expresseS his whole attitude. The color is straw yellow, bright. Tha main aromas are of apricot, white peach, violet. And you can appreciate also notes of pear, lime and jasmine. Proceding with tasting you can recognize croissants with cream and thrush aromas too. For the palate it is soft, with a bit salty and a final wrap. Long finish. Elegant, luxurious , it is a perfect wine for numerous dishes of the Sicilian cuisine. 90 points


One last thing: the websites where you can acquire information on wines are two. The first, http://www.bagliodipianetto.comis composed and orderly, It is the official website. The other one, http://www.stilesiciliano.com, is more dynamic and communicative. You have to visit both, even to understand the curious double nature of this reality: serious and noble, in loves to play and have fun. How to disagree?