Pol Roger Blanc de Blancs eight vintages labels
From Epernay, we are at Pol Roger maison , one of the few companies that produces a huge quantity of bottles and at the same time its products are considered excellent.
We tasted eight different vintages of Blanc de Blancs.
It was a great tasting, elegance and savory, long and freshness are the caracteristics of this type of Champagne that in Italy costs about 80 euros.
Here it is the cronical of the tasting. Then you can find other articles of our visit in Champagne.

From left to right Luca Santini d'Harcourt, vice president of Pol Roger
and Patrice Noyelle, president of maison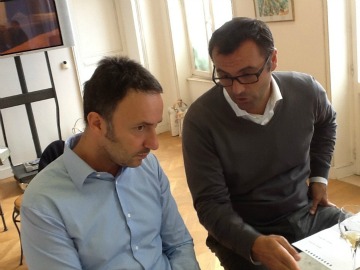 Cesare Turini and Lorenzo Righi of Heres, the company that distributes Pol Roger in Italy

Laurent d'Harcourt vice president of Pol Roger and Cesare Turini

A moment of tasting

Blanc de Blancs 2002

90/10

Medium perlage, herbacoeus scent,fresh taste, white berry fruity taste, mineral, light butter notes, good persistent taste. Finish savoury taste, fruity aftertaste. an evolution of elegance.
Blanc de Blancs 2000 dégorgement 11.10.2010

89/100

Good perlage, intense taste, butter notes, nuts, agreeble acidity, mineral, persistent. Very agreeble savoury aftertaste. Easy to drink.
Blanc de Blancs 1999 dégorgement 23.07.2009
92/100

Great parlage, it has a particulary delicacy and long -lasting taste, yellow intense colour.Notes: crust of bread, butter. Great balance between savouriness and acidity. Complex with notes of white berry fruits, apricots. Delicacy taste. Very peristent.
Blanc de Blancs 1998 dégorgement 14.09.2006

87/100

Full and long-lasting Perlage. The smell is not clear: there are hay, mineral, pinuts aromas. It's tasty, full taste, the aftertaste is savoury, it's medium persistent.
Blanc de Blancs 1996 dégorgement 07.04.2004

93/100

Medium perlage. There are dried apricots and mineral aromas. There's a great balance between and savouriness. It has a full and a long-lasting taste. Elegant, to drink on great occasions.

Blanc de Blancs 1990 dégorgement 26.05.1999

92/100

Medium perlage. Yellow Gold colour, despite 22 years it has a fresh taste. Full taste, mineral, with aromas of crust of bread. It has a savoury taste and a great elegance. Long-lasting persistent.

Blanc de Blancs 1988 dégorgement 01.12.1997
92/100

Good perlage. Yellow Gold colour, nuts and candied fruits, fresh and soft and full taste. It's savoury and persistent.
Blanc de Blancs 1986 dégorgement 14.11.1994
95/100

Good perlage. Yellow Gold colour intense, mineral, beeswax, mushrooms, wet heart, soft and mineral taste, complex and rare elegance. For an unforgettable night.
translated by M.A.P.